Hi everyone! Hope your weekend is off to a great start.
One question that seems to come up a lot in the Knight Chats (next one is 3/21- more info
here
) is "What do you do on the weekend?" I think a lot of people are expecting parties, and like at every school, partying does happen. However, I am not a partier at all and I can still have an amazing weekend!
There is no typical weekend for a St. Mike's student. Some weekends we are locked away in the library working on projects or papers, some weekends we go on retreats, some weekends we have birthday parties for our friends, some weekends we have absolutely no preset plans and still manage to have a great time. Every weekend is different!
For instance, yesterday night I went contra dancing for the first time! A few weeks ago, we got an email for a contra dance with a live band on North Campus. If you don't know what contra dancing is, I suggest looking it up on youtube because it's really something that can't be explained with words. It's similar to square dancing but very different- and a LOT of fun! My friend Jake loves to dance so I made him come with me and we headed up to North Campus.
North Campus is about a five minute shuttle ride from Main Campus and the shuttle runs every half hour (around the 15 and 45 minute marks on North, around the top of the hour and the 30 minute mark on Main). We picked up the 8:30 shuttle from the Ryan bus stop and headed to the Elley-Long Music Center. I've never been in there before, but it's such a beautiful little music hall!
Since we arrived in the middle of a dance, we had to watch for a bit which was completely fine so we could get the hang of it. A caller goes through each dance before it begins, as there is a 64-beat dance that, while composed of the same steps, is different every time. Then, once that was over, we could just go ask anyone to dance! A lot of the people there last night were members of the community who were a lot more experienced in contra dance and they helped the newbies out a lot. Here are some pictures from the night: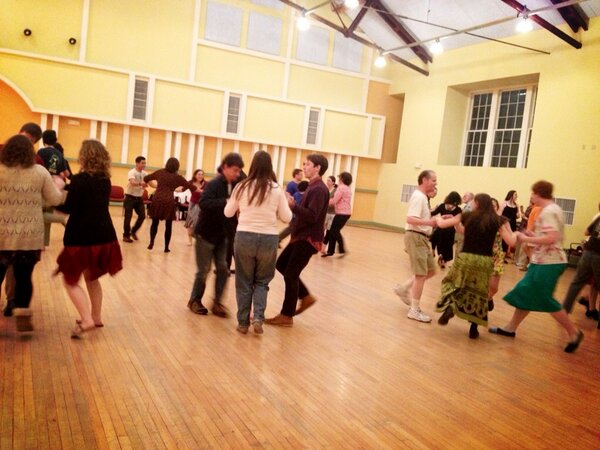 Contra dancing!
Me, Jake, and some of his friends!






Here's a video- sorry it's short!
Over about three hours, we did probably ten contras, two square dances, and a waltz. It was a blast! The band was great and everyone I danced with was really nice. It was a great way to get out and have some fun on a Friday night. After it was over, Jake and I walked back to Main Campus (we missed the shuttle and did not want to wait) and saw that the grille was open. The grille goes from 11pm-1am on weekends and serves different food- hot dogs, hamburgers, BBQ chicken sandwiches, and last night, chicken patties!! It's all free and we can just wander over to get food if we're hungry and we were! I have no pictures of the chicken patties because we ate them too quickly, sorry!
After that, it was time to go home for the night, but it was an awesome night. I just wanted to give you a glimpse into what weekends are like at St. Mike's. Hope everyone has a great weekend!